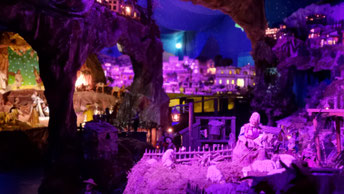 The main characteristics that make it unique are two: the first is the fact of being able to walk inside it, being able to observe from various angles the various settings and scenes of life of the crib; the second are the statues that compose it: the largest (about 50 cm high), which form the market, the cave and the area of ​​the Magi, date back to 1700 and have the particularity of having glass eyes and being sculpted in the wood with great skill and accuracy.
A second group of medium-sized statues (about 30 cm high), date back to 1800 and are also carved in wood but in a more coarse way. However, they have articulated arms and legs and have lent themselves more easily to mechanization, which makes them alive in their various Piedmontese trades dating back to the early 1900s. Finally, a third group of statues are of Provençal origin and date back to 1900: they are made of terracotta and cloth and used in the crib to enhance the perspective and enrich the environment.
Every year the crib undergoes considerable changes, varying parts of the same structure and thus creating spaces for the insertion of new houses, moving statues, new lighting and scenic effects, all to make it always original and renewed.
Don't miss the numerous water games and the lights that alternate in sunrise-day-sunset-night, with the appearance of the full moon and the comet and all the details inside the houses with over 80 mechanical movements.
The nativity scene is located in Cavallermaggiore, in Piazza Vittorio Emanuele II.